Football Mogul 2014 ( Steam Key / Region Free ) GLOBAL
Продаж: 14
Возвратов: 0
Загружен:
21.11.2016
Содержимое: текст
(38 символов)
Продавец
SteamMarket®
информация о продавце и его товарах
Описание товара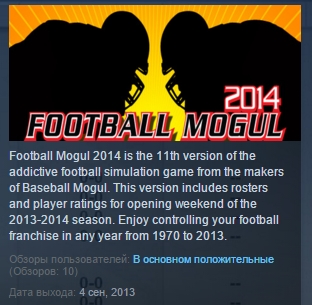 http://store.steampowered.com/app/371850/
Football Mogul lets you begin in any year you choose, from 1970 to 2013 with the full roster of your favorite team -- or an entirely fictional team of your own creation. Your involvement as GM does not stop in the team´s front office. Football Mogul gives you complete control over your team on the field. You start by setting the starting lineups for your team. On game day, you choose your level of involvement. You can retire to the luxury box and make calls to the field as needed or you can take control of each player, choosing what plays to run in each situation.

A powerful game engine simulates each play of the game based on customized player ratings and over 40 years of historical data, assuring you the maximum realism possible! Football Mogul is designed to help you manage your team over many simulated years. Manage your team one day at a time, or let the computer simulate weeks or months at a stretch so you can play for virtual years or decades. As your players age, their abilities mature and decline realistically. Don´t forget to build your team for the long term, rather than spending all your money on free agents this season. Watch your team rise and fall in the standings, watch your bank statement, and read the news stories to stay on top of what´s happening with all the teams in both leagues. If you pick the right players, manage your finances well, and stick to a winning strategy, your team may win the Super Bowl, and you too may become a Football Mogul!

Features

Start in any season from 1970 to 2013
Rosters for every year since the AFL-NFL merger
Play-by-play describes each play as it happens
Box scores and play-by-play files created for each game
Detailed play designer
22 offensive formations: 3rd down packages, wildcat, etc.
17 defensive formations: nickel, dime, prevent, 33 stack, 52, etc.
View detailed results for each play in your playbook: Versus each type of defense, In each down-and-distance situation
Realistic player development and aging
Play up to 100 seasons into the future
Automatically loads files from previous versions

New Features

Updated team rosters for 2013-2014 season
Accurate 65-man rosters, updated for week 4 of the pre-season
More realistic simulation
"Targets" and "Yards After Catch" incorporated into ratings (and recorded during simulation)
"Hands", "Power", "Quickness" and "Visions" updated and calibrated for every player
More accurate tackling, according to player skill and defensive play-calling
New stats and ratings for over 2,800 active players
Updated year-by-year stats for every player
Hand-edited ratings for over 340 offensive linemen and 500 skill positions (including 80 QBs)
Updated ratings for over 900 defensive players and 170+ special teams specialists
More than 400 new players
Includes all 2013 draftees, plus undrafted free agents
More than 800 new player photos
Exact season schedule for every season from 2001 through 2013
Accurate scheduling algorithm for all future seasons (2014 and beyond):
Includes correct interdivision and interleague matchups according to NFL rules
Plus realistic schedule options going back to 1972
Improved play designer and playbook editor
More control over play action and option plays
Improved Play-By-Play interface
Let the computer choose your defensive plays while your control your offense (or vice versa)

Дополнительная информация
ИНСТРУКЦИЯ ПО АКТИВАЦИИ:

1. Необходимо скачать и установить Steam http://steampowered.com/download/SteamInstall.msi
2. Зайти под своей учетной записью или зарегистрировать новую.
3. Перейти в раздел "Мои игры" и выбрать "Активировать через Steam...", и ввести ключ полученный после оплаты.
4. После активации, игра появится в списке игр (Библиотеке) и вы сможете её скачать
Отзывы
2
За последние
1 мес
3 мес
12 мес
0
0
1
0
0
0
В целях противодействия нарушению авторских прав и права собственности, а также исключения необоснованных обвинений в адрес администрации сайта о пособничестве такому нарушению, администрация торговой площадки Plati (http://www.plati.market) обращается к Вам с просьбой - в случае обнаружения нарушений на торговой площадке Plati, незамедлительно информировать нас по адресу support@plati.market о факте такого нарушения и предоставить нам достоверную информацию, подтверждающую Ваши авторские права или права собственности. В письме обязательно укажите ваши контактные реквизиты (Ф.И.О., телефон).

В целях исключения необоснованных и заведомо ложных сообщений о фактах нарушения указанных прав, администрация будет отказывать в предоставлении услуг на торговой площадке Plati, только после получения от Вас письменных заявлений о нарушении с приложением копий документов, подтверждающих ваши авторские права или права собственности, по адресу: 123007, г. Москва, Малый Калужский пер. д.4, стр.3, Адвокатский кабинет «АКАР №380».

В целях оперативного реагирования на нарушения Ваших прав и необходимости блокировки действий недобросовестных продавцов, Plati просит Вас направить заверенную телеграмму, которая будет являться основанием для блокировки действий продавца, указанная телеграмма должна содержать указание: вида нарушенных прав, подтверждения ваших прав и ваши контактные данные (организиционно-правовую форму лица, Ф.И.О.). Блокировка будет снята по истечение 15 дней, в случае непредставления Вами в Адвокатский кабинет письменных документов подтверждающих ваши авторские права или права собственности.