The Long Dark (RU\CIS\VPN) - steam gift + discount
Продаж: 6
Возвратов: 0


Cкидка постоянным покупателям! Если общая сумма ваших покупок у продавца
Steamby
больше чем:
Если вы хотите узнать размер скидки, укажите свой email:
Продавец
Steamby
информация о продавце и его товарах
Описание товара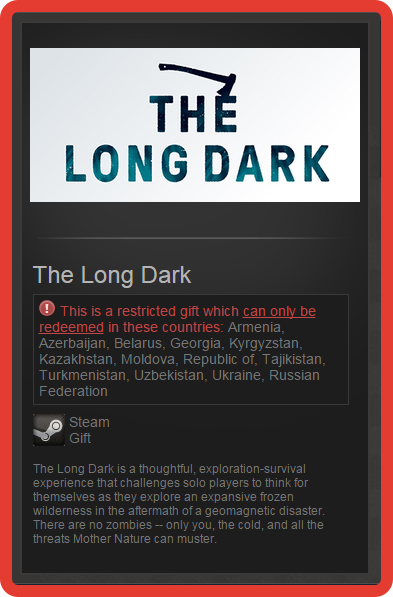 ***THE LONG DARK IS AN EARLY ACCESS TITLE. THE SANDBOX IS IN A CONSTANT STATE OF IMPROVEMENT, AND IT ISN´T FINISHED. BUYING THE LONG DARK ON EARLY ACCESS SUPPORTS OUR ABILITY TO CONTINUE IMPROVING THE GAME. FOR MORE INFORMATION, REFER TO THE EARLY ACCESS INFORMATION ABOVE.***
What is The Long Dark?
The Long Dark is a thoughtful, exploration-survival experience that challenges solo players to think for themselves as they explore an expansive frozen wilderness. There are no zombies -- only you, the cold, and everything Mother Nature can throw at you.
Current Game Features
The Early Access version of The Long Dark features the game's non-narrative Survival Sandbox mode.

No hand holding! The game challenges players to think for themselves by providing the information but never the answers. You have to earn the right to survive.
Monitor your Calorie count, Hunger and Thirst, Fatigue, and Body Temperature. Maintain your overall Condition if you want to survive. Let yourself weaken and any small threat may take lead to your death.
Two sandbox regions provided more than 10 square kms of wilderness to explore (and with more regions coming!). Mystery Lake offers abundant hunting and exploration of points of interest like the Forestry Lookout, Trapper's Homestead, and an abandoned Hydro Dam. Coastal Highway is populated with small townsites, a fishing village, and various hunting cabins in the hills. Watch out for thin ice!
Dynamic weather, wildlife, and time of day, all with an impact on how you choose to survive.
Over 100 gear items including clothing, tools like hatchets and rifles, first aid equipment, foodstuffs, light sources like lanterns and flares, and firestarting equipment.
Hunt Deer, Snare Rabbits, and watch for Crows as they can signify the presence of animal, or human, corpses that can be vital sources of Supplies. Wolves are territorial and will defend their territory, or stalk you if they catch your scent. If you let them get too close, you may find yourself in a desperate struggle to survive.
Harvest Wood for fuel, maintain your Gear and Clothing, and keep your Knife, Hatchet, and Rifle in top shape as they will save your life!
Deep First Aid system featuring many afflictions including: Sprains, Blood Loss, Infection Risk, Infection, Food Poisoning, and Dysentery.
Craft Snares, First Aid items, Repair your Clothing and Tools, and Harvest raw materials from the environment, as you do your best to become self-sufficient.
Permadeath! See how long you can survive, check your standing on the global Leaderboards, then head back in and push yourself to survive longer.
...and much more!
Ongoing Development
With an average of 3-4 updates per month, The Long Dark is in a state of constant improvement. Major areas that will receive additional expansion in the coming months: Crafting, Wildlife, NPC Survivors, more Hunting-type activities, more Gear, Tools, and Supplies, more Regions (maps), Oculus Rift support, Controller support, International Versions, and eventually, a full Story mode featuring the voice talents of Mark Meer, Jennifer Hale, Elias Toufexis, and David Hayter.

Please note that the Early Access price provides immediate access to the Sandbox Mode, and includes the cost of Story Mode, which will be available at the game´s full launch.
The Hinterland Team
The Long Dark is brought to you by Hinterland Studio, an independent game developer comprised of industry veterans with significant credits on many renowned series including Far Cry, Red Faction, Saints Row, God of War, Mass Effect, Knights of the Old Republic, Dragon Age, Company of Heroes, and many others. The Long Dark is the team´s first attempt to create a unique and thought-provoking independent game that pushes the boundaries of the medium.

We appreciate your support of our efforts!
Дополнительная информация
This product is a reference (gift), the transition to which the game is activated on your account!
This is a restricted gift which can only be redeemed in these countries: Armenia, Azerbaijan, Belarus, Georgia, Kyrgyzstan, Kazakhstan, Moldova, Republic of, Tajikistan, Turkmenistan, Uzbekistan, Ukraine, Russian Federation

Товар представляет собой ссылку(подарок/гифт), при переходе по которой игра активируется на ваш аккаунт!
Этот гифт может быть активирован только в этих странах: Армения, Азербайджан, Республика Беларусь, Грузия, Киргизстан, Казахстан, Молдова, Республика Молдова, Таджикистан, Туркменистан, Узбекистан, Украина, Россия
● ● ● ● ● ● ● ● ● ● ● ● ● ● ● ● ● ● ● ● ● ● ● ●
List of all products: http://steamby.plati.ru
Список всех товаров: http://steamby.plati.ru
● ● ● ● ● ● ● ● ● ● ● ● ● ● ● ● ● ● ● ● ● ● ● ●
Отзывы
0
Отзывов от покупателей не поступало.
За последние
1 мес
3 мес
12 мес
0
0
0
0
0
0
В целях противодействия нарушению авторских прав и права собственности, а также исключения необоснованных обвинений в адрес администрации сайта о пособничестве такому нарушению, администрация торговой площадки Plati (http://www.plati.com) обращается к Вам с просьбой - в случае обнаружения нарушений на торговой площадке Plati, незамедлительно информировать нас по адресу
support@plati.com
о факте такого нарушения и предоставить нам достоверную информацию, подтверждающую Ваши авторские права или права собственности. В письме обязательно укажите ваши контактные реквизиты (Ф.И.О., телефон).
В целях исключения необоснованных и заведомо ложных сообщений о фактах нарушения указанных прав, администрация будет отказывать в предоставлении услуг на торговой площадке Plati, только после получения от Вас письменных заявлений о нарушении с приложением копий документов, подтверждающих ваши авторские права или права собственности, по адресу: 123007, г. Москва, Малый Калужский пер. д.4, стр.3, Адвокатский кабинет «АКАР №380».
В целях оперативного реагирования на нарушения Ваших прав и необходимости блокировки действий недобросовестных продавцов, Plati просит Вас направить заверенную телеграмму, которая будет являться основанием для блокировки действий продавца, указанная телеграмма должна содержать указание: вида нарушенных прав, подтверждения ваших прав и ваши контактные данные (организиционно-правовую форму лица, Ф.И.О.). Блокировка будет снята по истечение 15 дней, в случае непредставления Вами в Адвокатский кабинет письменных документов подтверждающих ваши авторские права или права собственности.