Street Fighter X Tekken (ROW) | MULTILANG | REG.FREE
Продаж: 4
Возвратов: 0
Загружен:
20.08.2017
Содержимое: текст
(18 символов)
Описание товара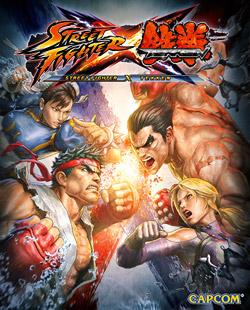 You are purchasing Street Fighter X Tekken (ROW) | MULTILANG | REG.FREE
Activation: STEAM
Region: Region-free
Language: Multilanguage



•••••••••••••• •••••••••••••• •••••••••••••• •••••••• ••••••
User Account Creation:

1) You need to download and install Steam Launcher - http://steampowered.com/download/SteamInstall.msi (if not already installed)
2) Register your new account on Steam or go to an existing one.
3) Go to "My Games", select "Activate via Steam" and enter the key received immediately after the payment.
4) After the activation, the game will appear in the list of games and you can download it from steam.
•••••••••••••• •••••••••••••• •••••••••••••• •••••••• ••••••


**********
GIFT:
**********
Every customer who has purchased this product and leaves positive feedback can get a free bonus game on Steam.
Key will need to be activated on "Steam".

For a gift you must:
1) Buy our game
2) Leave a positive feedback with a comment "I want a gift"
3) Contact us by email (Email displayed in contacts) or via chat.

Gifts are normally sent out within 1-3 business days after writing a comment.

Caution: By leaving a review you guarantee that you have read, understood and accepted all the conditions for receiving the gift.


If you have any questions - please contact us.

Dear customers! Please leave positive feedback after each purchase - this helps our rating and allows us to reduce the prices for you! Thank you!

About the game: Will You Cross the Line? The long awaited dream match-up between the two titans of fighting is here! Street Fighter® X Tekken® is the ultimate tag team fighting game, featuring one of the most expansive rosters of iconic fighters in fighting game history. The critically acclaimed Street Fighter® IV game engine has been refined with new features including simultaneous 4-player fighting, a power-up Gem system, Pandora Mode, Cross Assault and more. Street Fighter and Tekken players alike will cross the line in this revolutionary battle!
Key Features: Dream Match Up Dozens of playable characters including Rolento, Zangief, Cammy, Sagat, Hugo, Ibuki, Poison, Dhalsim, Ryu, Ken, Guile, Abel, Balrog, Juri, Vega and Chun-Li from Street Fighter as well as Heihachi, Lili, Julia, Hwoarang, Raven, Kuma, Yoshimitsu, Steve, Kazuya, Nina, King, Marduk, Bob, Law, Paul and Xiaoyu from Tekken. Real-time Tag Battle Fight as a team of two and switch between characters strategically. Gem System A brand new feature that combines customization with strategy, the Gems add an extra level of depth and provide a pioneering way to experience fighting games. A total of 57 Gems (5 Assist and 52 Boost) come standard in the game and players have the ability to equip three different Gems that improve upon weaknesses or capitalize on strengths. Play your way! Briefing Room Get your combos and timing just right with help from your friends in this online training mode. Scramble Mode Four separate players, online or offline, control each of the four characters on screen for the ultimate battle royale. Pandora Mode Sacrifice yourself in battle to give your partner a short, but powerful, boost in strength. Familiar Controls In Street Fighter X Tekken, controls will feel familiar for fans of both series. Juggle System Toss your foes into Tekken-style juggles with Street Fighter X Tekken´s universal air launching system. Cross Assault By using the Cross Gauge, a player can activate Cross Assault and attack with both of their characters at the same time. Super Art Using the Cross Gauge you can immediately unleash a Super Art. Ryu´s famed Shinku Hadoken, Kazuya´s Devil Beam as well as the Tekken characters all have original Super Art techniques. Robust Online Modes In addition to the online features from Super Street Fighter® IV

Данный товар распространяется посредством цифровой дистрибуции и не содержит упаковок и коробок.</deliv
Отзывы
1
Отзывов от покупателей не поступало.
За последние
1 мес
3 мес
12 мес
0
0
0
0
0
0
В целях противодействия нарушению авторских прав и права собственности, а также исключения необоснованных обвинений в адрес администрации сайта о пособничестве такому нарушению, администрация торговой площадки Plati (http://www.plati.market) обращается к Вам с просьбой - в случае обнаружения нарушений на торговой площадке Plati, незамедлительно информировать нас по адресу support@plati.market о факте такого нарушения и предоставить нам достоверную информацию, подтверждающую Ваши авторские права или права собственности. В письме обязательно укажите ваши контактные реквизиты (Ф.И.О., телефон).

В целях исключения необоснованных и заведомо ложных сообщений о фактах нарушения указанных прав, администрация будет отказывать в предоставлении услуг на торговой площадке Plati, только после получения от Вас письменных заявлений о нарушении с приложением копий документов, подтверждающих ваши авторские права или права собственности, по адресу: 123007, г. Москва, Малый Калужский пер. д.4, стр.3, Адвокатский кабинет «АКАР №380».

В целях оперативного реагирования на нарушения Ваших прав и необходимости блокировки действий недобросовестных продавцов, Plati просит Вас направить заверенную телеграмму, которая будет являться основанием для блокировки действий продавца, указанная телеграмма должна содержать указание: вида нарушенных прав, подтверждения ваших прав и ваши контактные данные (организиционно-правовую форму лица, Ф.И.О.). Блокировка будет снята по истечение 15 дней, в случае непредставления Вами в Адвокатский кабинет письменных документов подтверждающих ваши авторские права или права собственности.