Displayfusion ( steam gift RU + CIS )
Описание товара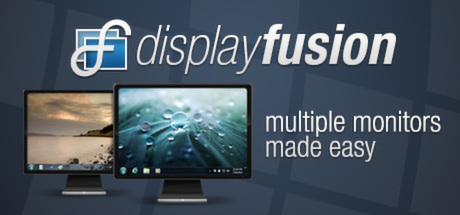 DisplayFusion will make your multi-monitor life much easier. With powerful features like Multi-Monitor Taskbars, TitleBar Buttons and fully customizable Functions, DisplayFusion will make managing your multiple monitors easy. These features even work when AMD Eyefinity or nVidia Surround are enabled on your system! Lifetime License
This DisplayFusion license is a lifetime license, you won't pay anything for any future updates or new major versions. Pay once, and enjoy DisplayFusion forever! Trial License: A 30-day trial of DisplayFusion Pro is available on the download page of our official website: http://www.displayfusion.com/Download/. Just download and run the installer, and choose the trial option when prompted. When you purchase the Steam version of DisplayFusion Pro, it will automatically replace the existing DisplayFusion Pro trial the first time you launch it from within Steam.
Key Features: Monitor Splitting (works with Surround and Eyefinity!) Split your monitors into multiple virtual monitors so that you can have separate Taskbars, Wallpapers, Window Location rules, Functions, and Screen Savers for each split. Applications will maximize to the size of each split, and Functions like "Move to Next Monitor" will treat each split as a separate monitor. Compensate for ATI and nVidia Bezel Compensation in DisplayFusion to prevent your windows from disappearing behind your bezels. Monitor Configuration and Profiles. Use DisplayFusion to set your Monitor Configuration. Configure the resolution, colour depth, refresh rate and orientation. You can even save your configurations as Monitor Profiles that you can load later using a key combination or TitleBar Button. Link a Wallpaper Profile with your Monitor Profile to load your desktop wallpaper automatically based on the monitors you have connected. Multi-Monitor Wallpaper. Customize your desktop with Multi-Monitor Wallpapers from WallpaperFusion, Flickr, InterfaceLIFT, Vladstudio and more. Tile, stretch, scale, crop, position and tint your images exactly how you want. Multi-Monitor Taskbar. Keep your windows easily organized by adding a taskbar to each of your monitors. The taskbar on each monitor can be configured to show all windows, or only the windows that are located on that monitor. Use button grouping, auto-hide, window previews, shortcuts (pinned applications) and much more to help you work more easily with your application windows. Each taskbar can have its own custom set of shortcuts. Taskbar elements on the DisplayFusion Taskbars can also be customized to your liking, including the position of the Start button, Taskbar buttons, and clock/system tray. Customizable Functions and TitleBar Buttons. DisplayFusion comes bundled with over 30 pre-configured Functions, or you can create your own powerful custom Functions. Create Functions to load Wallpaper or Monitor Profiles, move windows around, change window opacity, toggle DisplayFusion features and much more. Any Function, including custom Functions that you´ve created, can be assigned to a TitleBar Button for easier access with the mouse, or to a keyboard shortcut for keyboard power users. Functions can also be assigned to the Jump List menus on the DisplayFusion Multi-Monitor Taskbars, allowing them to be run even on applications that are minimized.
Отзывы
1
Все прошло удачно, надеюсь, что продавец не станет отзывать товар (п.с. такое происходило с другими продавцами)
14.12.2015
За последние
1 мес
3 мес
12 мес
0
0
0
0
0
0
В целях противодействия нарушению авторских прав и права собственности, а также исключения необоснованных обвинений в адрес администрации сайта о пособничестве такому нарушению, администрация торговой площадки Plati (http://www.plati.com) обращается к Вам с просьбой - в случае обнаружения нарушений на торговой площадке Plati, незамедлительно информировать нас по адресу
support@plati.com
о факте такого нарушения и предоставить нам достоверную информацию, подтверждающую Ваши авторские права или права собственности. В письме обязательно укажите ваши контактные реквизиты (Ф.И.О., телефон).
В целях исключения необоснованных и заведомо ложных сообщений о фактах нарушения указанных прав, администрация будет отказывать в предоставлении услуг на торговой площадке Plati, только после получения от Вас письменных заявлений о нарушении с приложением копий документов, подтверждающих ваши авторские права или права собственности, по адресу: 123007, г. Москва, Малый Калужский пер. д.4, стр.3, Адвокатский кабинет «АКАР №380».
В целях оперативного реагирования на нарушения Ваших прав и необходимости блокировки действий недобросовестных продавцов, Plati просит Вас направить заверенную телеграмму, которая будет являться основанием для блокировки действий продавца, указанная телеграмма должна содержать указание: вида нарушенных прав, подтверждения ваших прав и ваши контактные данные (организиционно-правовую форму лица, Ф.И.О.). Блокировка будет снята по истечение 15 дней, в случае непредставления Вами в Адвокатский кабинет письменных документов подтверждающих ваши авторские права или права собственности.