Roller Coaster Rampage ( steam key region free )
Продаж: 10
Возвратов: 0
Загружен:
27.10.2017
Содержимое: текст
(55 символов)
Описание товара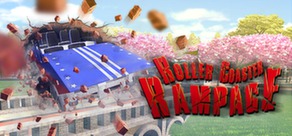 Рецензии

"With its freeform, arcade-style gameplay that lets you build some truly insane coasters and then ride them in first-person, Roller Coaster Rampage indulges all my wildest childhood ´what ifs´...It´s an inventive approach to coaster crafting that allows for some real artistry and intuition in the tracks you make"
– Nathan Meunier, IGN

"If you like Indie games that offer simple and fun gameplay experience and with nice stereoscopic 3D effect on top, then you probably will not be disappointed by Roller Coaster Rampage."
– 3D Vision Blog

Об игре

Roller Coaster Rampage is a fast paced, high-scoring, competitive rollercoaster simulator with destructive environments!

Players compete to perform the best manual maneuvers, collect the most gems, link to the most track sections, and gain first place on the leaderboards!

Roller Coaster Rampage revolutionizes the coaster genre by introducing on-the-fly track construction and deformation. In previous games the coaster riding experience was a passive, non-interactive experience. Roller Coaster Rampage introduces an innovative approach, and a specialized procedural coaster engine that allows players to build coasters in real-time as they ride them. Players leave behind a trail of procedurally-generated coaster tracks and supports, which then become obstacles as the player circles back. While riding players can also dynamically connect to isolated track segments like loops, cobra rolls, bat wings, and barrel rolls. With these innovative game features and engine technology players can now build coasters while enjoying a fast paced, arcade style, roller coaster racing simulator.
Key features

Campaign mode with 30 fast paced challenges of increasing difficulty.
Build your track rails in real-time through a specialized procedural game engine.
Perform crazy stunts like corkscrews barrel rolls, outside loops, inverted loops, and more!
Link to existing tracks including cobra rolls, loops, helix, bat wing, inverted batwing, and more!
Soar off mammoth jumps for an extra intense, front seat, replay experience.
Coasters can even derail, slide, and link back to track rails again.
Addictive gameplay with preferred and alternate paths for an extended replay experience.
Freeride mode for simply creating wild coasters.
AI stunt recognition. The more stunts you pull, the higher your leaderboard placement.
When finished, take a front seat ride in your custom coaster design.
Destructible environments provide extra points for leaderboard placement.
In game Global/Friends Leaderboard support along with Achievements and Stats.
3D stereoscopic support including 3D Vision, side by side, and above/below modes.
Custom RGB settings for rail, support, and tie colors.
Realtime procedural track and support generation with specialized AI
Realistic procedural trees with dynamic wind effects
Beautiful water effects with reflection and refraction
High Dynamic Range lighting effects


Отзывы
0
Отзывов от покупателей не поступало.
За последние
1 мес
3 мес
12 мес
0
0
0
0
0
0
В целях противодействия нарушению авторских прав и права собственности, а также исключения необоснованных обвинений в адрес администрации сайта о пособничестве такому нарушению, администрация торговой площадки Plati (http://www.plati.market) обращается к Вам с просьбой - в случае обнаружения нарушений на торговой площадке Plati, незамедлительно информировать нас по адресу support@plati.market о факте такого нарушения и предоставить нам достоверную информацию, подтверждающую Ваши авторские права или права собственности. В письме обязательно укажите ваши контактные реквизиты (Ф.И.О., телефон).

В целях исключения необоснованных и заведомо ложных сообщений о фактах нарушения указанных прав, администрация будет отказывать в предоставлении услуг на торговой площадке Plati, только после получения от Вас письменных заявлений о нарушении с приложением копий документов, подтверждающих ваши авторские права или права собственности, по адресу: 123007, г. Москва, Малый Калужский пер. д.4, стр.3, Адвокатский кабинет «АКАР №380».

В целях оперативного реагирования на нарушения Ваших прав и необходимости блокировки действий недобросовестных продавцов, Plati просит Вас направить заверенную телеграмму, которая будет являться основанием для блокировки действий продавца, указанная телеграмма должна содержать указание: вида нарушенных прав, подтверждения ваших прав и ваши контактные данные (организиционно-правовую форму лица, Ф.И.О.). Блокировка будет снята по истечение 15 дней, в случае непредставления Вами в Адвокатский кабинет письменных документов подтверждающих ваши авторские права или права собственности.